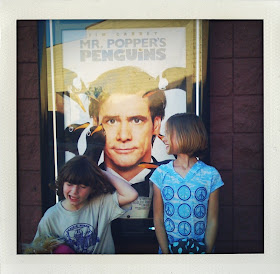 Dear summer diary,
The Mr. & I took the girls out to dinner & then a movie. We saw "Mr. Popper's Penguins".
Zoey thought it was kind of a sad movie.
Pazely liked it & said "there was a sad part & a happy part."
I thought it was a good family movie. For some reason the girls just remember the part that made them sad. But don't let their review fool you. It was a funny silly flick!
Daddy thought it was "alright" & was happy the girls had a good time.
After the movie we drove thru Arby's & got turnovers for the girls. (Ok, Zoey & I split one.)
We're headed home now with sleepy girls in the backseat.
♥
Nikki
- Posted using BlogPress from my iPhone